How does the P2P Crypto Exchange work?
Here are the steps to understand the working process of the P2P crypto exchange software.

Step:1
First of all, users have to register on a P2P Crypto exchange platform

Step:2
They should undergo the KYC verification process

Step:3
If your user wants to buy, then they need to place a buy order

Step:4
And then a wallet address has to be created for the buyer to trade

Step:5
The buyer should select the right seller by seeing their portfolio

Step:6
The buyer and seller should agree on the terms of the P2P trade

Step:7
Smart contract-based escrow holds the seller's crypto assets to be sold

Step:8
The buyer makes the payment for crypto assets to be purchased
Step:9
After the payment process, the seller confirms the payment

Step:10
Finally, escrow transfers the crypto assets to the buyer's crypto wallet
Features of Our P2P Crypto Exchange Software

Multi-currency wallet
Our P2P crypto exchange software is integrated with a wallet that helps your users to hold and manage multiple currencies.

Multi-layer Security
Our peer-to-peer crypto exchange software is integrated with top-notch security features which add an extra layer of security.

Escrow System
We integrate a secure & reliable escrow system with our P2P crypto exchange software that allows trading between the platform users.

Referral Program
With this, your users can refer to their friends and family. And it helps you increase the user count quickly & attracting many users.

Admin Panel
Our P2P crypto exchange software has a convenient admin dashboard. With that, you can manage and modify the functionalities in a hassle-free manner.

Multi-language Support
Our best P2P crypto exchange software supports many languages and provides the best user experience for your users.

Automated Transactions
With our P2P Crypto exchange software, your users can get automated crypto transactions. With that, there is no need for a middleman and reduced transaction fees.

KYC & Profile Verification
Our P2P exchange software is integrated with profile verification. And permits you to efficiently authorize user profiles and neglect unauthorized users.

Atomic swap
This feature enables users to exchange cryptocurrencies between two parties, without moving them through any third-party service.

Multi-payment method
Our P2P crypto exchange software allows your users to have lots of payment options compared to other popular crypto exchanges.

User interface
We provide user-friendly software that allows users to easily register, sign in, and trade on the P2P crypto exchange platform.

Preferred Trading
With this feature, your users can choose a preferred way of trading and make a big profit in a limited amount of time ensuring smooth trading results.
Security Features of P2P Crypto Exchange Software
Our premium P2P crypto exchange from scratch comes with extra-level security to make your peer-to-peer crypto exchange safe and secure.


Two-factor authentication

HTTP Parameter Pollution Protection

Anti-Denial of Service (DoS)

Anti-Distributed Denial of Service (DDoS)

E-mail or Google authentication
Benefits of P2P Crypto Exchange Platform Development
P2P crypto exchange development became popular with the invention of the crypto-based economy. It provides the user with certain unique benefits. With that, the demand for P2P cryptocurrency exchange software has increased.
High-grade security
Easy integration
Instant Launch
Flawless customization
Privacy and Confidentiality
Customer support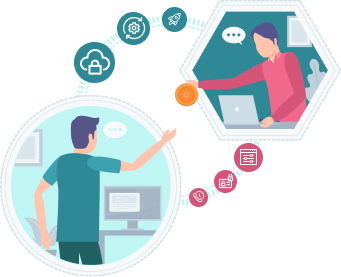 Feature-rich P2P Crypto Exchange Script
P2P Crypto exchange script is pre-built exchange software that includes all of the fundamental and necessary functionality to build a P2P cryptocurrency trading platform. You may quickly construct and deploy a superfine peer-to-peer crypto exchange with escrow security by employing a potent P2P crypto exchange script. With all the desired trading functions, this kind of white-label peer-to-peer Bitcoin exchange software is safe and incredibly responsive.
We provide you with a cutting-edge P2P Crypto exchange script packed with amazing features. The script we provide has a great degree of customizability, so you can alter the platform's overall design, the exchange's appearance, its trading features, and other add-ons to suit your company's requirements. The user interface of our p2p cryptocurrency exchange script is appealing, and our security measures have been enhanced.

Binance Clone Script
As a leader in creating P2P cryptocurrency exchanges, we provide our clients with highly effective Binance clone software so they may launch their exchange platform with a powerful trading engine.

Paxful Clone Script
We started providing our customers with a way to build a P2P exchange similar to Paxful using our flawless escrow-based Paxful clone script after being inspired by the high-level trading services of Paxful.

LocalBitcoins Clone Script
After learning about LocalBitcoins' trading services, we help potential customers to build their own cryptocurrency exchange using our ready-made LocalBitcoins clone script.

Remitano Clone Script
We provide a market-ready Remitano clone software to launch P2P ad-based cryptocurrency exchange platform comparable to Remitano, which was inspired by the Remitano crypto trading services.
Our P2P Crypto Exchange Development Process
As a reputed P2P crypto exchange development company, we combine our domain expertise and the latest technology to build a coherent roadmap. Our experienced developers navigate the development of your P2P Crypto exchange platform and accelerate time-to-market.

Requirement gathering
We gather information from the clients(you) and we do market research based on your requirements.

Planning
We understand your business goals and devise a strategic plan that aligns with your business needs.

Designing
Our designers will design your P2P cryptocurrency exchange with advanced features, the latest trends, and technologies.

Development
We develop P2P crypto exchange from scratch based on your requirements that provides a flawless experience for your users.

Test and Improve
We test the P2P Crypto exchange platform and make some necessary changes in its performance and usability.

Deployment
Once the testing is done, we deploy the P2P crypto exchange platform into the crypto environment.
Why Choose ZAB Technologies for P2P Crypto Exchange Development?
ZAB Technologies is the top P2P cryptocurrency exchange development firm in the marketplace. Our developers have great experience in P2P crypto exchange platform development. We provide end-to-end peer-to-peer exchange software depending on the needs and requirements of various businesses. Our professional developers and expert team possess the required skill set to offer a realistic P2P crypto exchange platform. And also we strive to obtain desired results within a limited timeframe.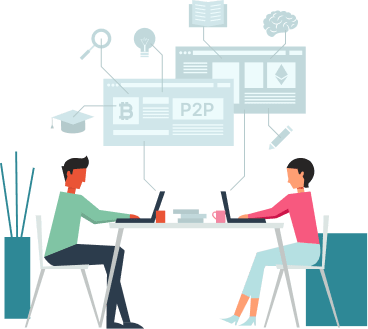 Experts in cryptocurrencyGreat customer service & develop great relationships with our clients.
skills to useStrive for friendly, personable, approachable, and excellent service.
Years of experience24x7 monitoring and a supporting team of experts
Provide crypto exchange help you to optimize your business and ensure your success.
Technology Stack

Talk to us
Email
Phone / Whatsapp
Telegram
Skype